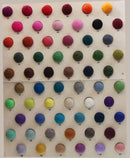 Description
Buy 1.1" (3 cm) Felt Balls
1.1" (3 cm) felt balls package with various quantities allows you to unleash your creative imagination and build something quite amazing .
How to Order MyFelt Balls?
Please watch this 2 minutes video to learn how to buy felt balls in bulk.
1. Select quantity from drop down list.
2. Click on the color you want.A small text box will appear on the side. Typehow many felt balls you want in that box.


3. Follow step 2 for other colors until you reach the total quantity.
4. If you want the color to reappear instead of the quantity, just click on the small image next to the number. (You may need to enlarge the screen if you are using mobile phone. Simply place two fingers on the screen and expand them to zoom in).
5. Add To Cart.
Get our felt ball color chart if you wish to see the felt balls first.
Total number of felt balls should't exceed the quantity you have ordered. If it goes over, we willcap it on the quantity you've purchased by reducing the number per color.
If you just want the most popular colors, then just select any one color and leave a note during checkout. This will allow us to pick the most common colors for you.
Whether you are a small business owner, soon to become mum or just someone who just wants to zone out fromtheir crazy, day to day lifestyle and just want to felt their time, these 3 cm felt ball packages are perfect for you.
Payment & Security
Your payment information is processed securely. We do not store credit card details nor have access to your credit card information.