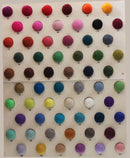 Bring your imagination into life by creating your own felt ball rug. This custom design freckle deckle felt ball rug can be a great way to start.
Are you looking for some inspiration? Check out how others have designed their felt ball rugs.
All you've got to do is:
1. Select the diameter of the rug.
2. Select colors from color list. ( minimum 1 color)
Note: If you are very specific about the colors, please order our color chart which has actualfelt balls with all the available colors. The cost will bereimbursed when you purchase your custom rug.
3. Add to Cart Or Click on Preview if you wish to see it first. That's it.
Payment & Security
Your payment information is processed securely. We do not store credit card details nor have access to your credit card information.